"For those who have an intense urge for Spirit and wisdom,
it sits near them, waiting."
Patanjali, The Yoga Sutras of Patanjali

You know deep down that a radically different kind of life is possible. Whether you've read about it in books, heard about it from friends, or personally have had a taste of a more expansive way of being and living – you have a desire and a knowing deep within you that it is possible for you to be a different kind of leader.
If you've been on a conscious path or had a yoga practice for a while then you probably also know how challenging it is to stay conscious in the day-to-day demands of your work and your life.
Perhaps this sounds familiar:
You aspire to be an inspiration to your team but you just end up feeling frustrated that you can't get the organizational performance that you want.

You are personally ready to move to bigger and better things but can't because of inefficiency in your organization or your team.

You know that you are at the center of what is happening around you but you don't know how to change it.

You aspire to express compassion and caring in all of your relationships but you still find yourself acting out of unproductive patterns of behavior and communication, undermining your own efforts to create the kind of business and personal relationships you want.

You can access a deep clarity and wisdom when you have time to reflect, but when faced with the stresses of day-to-day life and the difficult decisions, it's often hard to access that inner wisdom when you need it.

You experience a deep serenity or energy following a yoga practice, but don't know how to bring that experience into the rest of your life, once you walk out the door of the studio and have to face the demands of work, family and other responsibilities.
The plain truth is that even for those of us who have tasted the possibility of a more enlightened way of being and leading, more often than not, we still get caught in the day-to-day challenges of life that pull us back into a more familiar and more contracted experience of ourselves and our life.
As a result, we don't live up to the potential we have as leaders to have the transformational impact that we want on our businesses, our people and our lives.

What if you could change that?
Jim Coughlin and Susan Mayginnes are committed to helping leaders discover leadership as a path of personal transformation and achieving business results in ways that generate vitality, joy and success. Having seen leaders who burn out, destroy relationships, compromise their health and are some of the most miserable, unhappy, unhealthy, stressed out people in the world, we want to help change the way that people can be as leaders in the world. Leaders today must have a positive transformational impact on the world through the people they influence. We are offering a unique collaboration of Jim's experience as a successful business owner and experienced Yoga Teacher along with Susan's 30+ years of helping business leaders become transformational leaders using deep inquiry and leading edge transformational methods.
One of the most important insights about changing anything has to do with knowing where deep change actually starts. Leaders who understand this are the only ones who can create real change.
"In today's organizations, many people are dying, not physically, but psychologically. To turn this situation around, for the healing process to begin, people must engage in deep personal change." Robert Quinn,
The Yoga Sutras of Patanjali

Are you ready to powerfully shift your worldview, uplift your approach to leadership and life and really thrive?
We created
The Yoga of Leadership Mastermind
to bring you the principles and applications of this relevant approach to succeeding and thriving in work and life informed by yoga practice, the Yoga Sutras and leading-edge transformational work.
In this program you will experience how one of the great wisdom traditions in the world combined with astonishing research in neuroscience and transformation can help you meet the demands of your life and your organization in a more conscious and joyful way.

Becoming internally balanced is key. So is finding your edge, creating internal alignment, focusing, engaging your courage and being in the present moment. Generating a centered and relaxed way of relating and responding to the demands of life while forwarding your important goals may well be the most crucial leadership capability today. Being able to see with clear, unclouded perception and act effectively with strength, flexibility and ease is vital to business success.
In this mastermind you will discover what it takes to be centered, flexible, focused and powerful for achieving your most important goals and outcomes.
What can happen when you are part of a year-long mastermind for leaders based upon ancient yogic principles and practice brought together with
important discoveries in leadership and brain science to help you forward your most important goals in all areas of your life?
Can you imagine yourself being more personally effective, experiencing greater relationship success, greater health and vitality, and having greater impact and influence in your organization?
You will be introduced to powerful tools, practices and perspectives that can transform how you think, create, communicate, lead and live in the world.
Many people think of "yoga" as just twisting yourself into a bunch of contorted postures. But yoga is actually much more than just the physical practice of yoga. "Yoga" which translates as "union" means to be in perfect tune - when body, mind, spirit are in absolute harmony. When you fine-tune yourself to such a point where everything functions so beautifully within you, the best of your abilities will naturally flow out of you. Yoga is the ancient science of activating your inner energies and internal states in such a way that your body, mind and emotions function at their highest peak. Yoga means to cultivate your energy in such a way that it elevates you to the highest level of your human potential. The Yoga Sutras are the fundamental teachings which form the philosophical basis of yoga.
We will explore and engage real business and life applications of these powerful yogic teachings, as well as leading edge discoveries in neuroscience and experiential transformational work. This amalgamation yields a powerful experience for leadership practice and generating organizational change and success. It is designed to be informational, experiential and personally transformational for each leader participant. You will develop a yoga practice that can really increase your vitality and inform your life.
We will learn to practice yoga for what happens in our "off the mat" world: learn to stay present at the office, to breathe through the discomfort of a hard conversation, to accept what is happening with our kids, to let go of our incessant inner-critic. Learn to generate internal states of being that support your personal performance, effectiveness with others and general well-being
Key to successful transformation is structure, support and practice.
This mastermind is a powerful community of cohorts, providing a powerful, sustained structure for a full year to support authentic and lasting transformation. Participants receive direct teaching and coaching and participate in shared inquiry, applied learning, mentorship, and monthly live retreats. You will learn yoga in a way that will influence your life both on and off the mat. You will be introduced to other tools and practices to uplift all areas of your life. The relationships you build in this powerful container can last a lifetime. Participants from my past masterminds continue to serve and support each other for years afterward. We will do everything in our power to support your highest evolution as a person and a leader in the world. Leadership can be a "lonely at the top" experience, and this mastermind environment generates the comraderie, compassion and level of engagement that supports authentic, powerful relationships.
"I cannot discuss the benefits of Susan's approach without referring to the overwhelming effect it has had on the personal lives of the participants. I have seen it rekindle stagnant marriages, restore parent-child communications and free individuals of co-dependant behaviors. My own abilities to resolve conflicts, cope with setbacks and express a full range of emotions with compassion has reached a new level I never thought possible. It has opened the door for me to live life more fully and to take advantage of new personal and professional opportunities."
Candace Walsh, VP of Human Resources, Seiko Instruments

"Susan's 20+ years of accumulated understanding of an organization and its relationships allow her to resolve meaningful core issues, and create awareness in the individuals or teams that permanently change dynamics. The results are not only identifiable, measureable, and sustainable but quite possibly life changing for those with the courage."
Michael Mugel, CEO, Red Mountain Retail Group

Are you running your organization with your ego or with your true power?

Imagine being able to inspire your people and organization to the levels of performance you know are possible.

Imagine having an organization that is aligned at all levels.

Imagine getting out of the endless loop of problem solving - managing people and situations rather than forwarding your primary goals.

Imagine maximizing your efficiency and the efficiency of your team and your organization so that you can take things to the next level for yourself and your company.

Stop taking on multiple roles of leader, manager and individual contributor - knowing all the while that your lack of focus on what matters most is costing you the results you really want.

Experience inner harmony in the midst of challenge.

Discover the ease in effort.
The world is facing unprecedented challenge and unprecedented opportunity. Be a leader who can rise to the call of what is really needed by leaders today – an evolutionary leap from leading from your ego, to leading from your True Self. Embrace this call to evolve as a leader.

Einstein said that you cannot solve a problem at the level of thinking that created the problem. Too often, we are trying to change something outside of us, when often, the possibility for change lies within.
"The real problem is frequently located where we would least expect to find it, inside ourselves."
Robert Quinn, Deep Change

Develop a mind that can create from a more enlightened perspective

Generate a new kind of body and brain that can forward the outcomes and experiences that you want

Transform your organization with insight, wisdom and understanding

Create real change

To get things you never got you have to think in ways you've never thought
As leaders who have successfully built organizations from the ground up and have dealt with the frustrations and challenges of all stages of a company, Jim and Susan are offering this program to help leaders become powerful creators who can elegantly and efficiently generate desired outcomes and empower their people to perform at higher levels, rather than endlessly problem-solve and "fix". We have studied some of the biggest differentiators in why some leaders are successful and others aren't, and we want to share this with you. We want to empower you to achieve what's most important to you - in all areas of business and life.

This year will bolster and expand your own capabilities and possibilities in ways that will energize and empower you and your approach to leadership. Find greater personal happiness, effectiveness, meaning and fulfillment in your role as a leader and in your relationships with others.
If you are committed to creating a breakthrough in your results this year, you can belong to this collaborative peer group of conscious leaders for a year of extraordinary achievement, transformation and growth!
We are deeply committed to supporting each participant in achieving your most important outcomes this year. You will discover how your yoga practice is a mirror for how you "practice" the other parts of your life. You will learn the deeper implications of yoga and how that can transform your work and your life. You are invited to come and start where you are and let this practice evolve, unfold, and transform you.
Listen to the CEO of Aetna speak about YOGA of Leadership
Jim Coughlin has built three profitable IT staffing firms to triple-digit growth rates, multi-million dollar sales revenues and lucrative liquidity events since 1990. While leading the Business Development organization at PermaTemp Agency he grew sales from $8 million to $30 million in 5 years. The company was acquired by Accustaff/Modis in 1995. In 1996 he founded StarTemps, Inc. which grew from $500,000 to $18 million in sales in 4 years. The company was acquired by The Plus Group in 2004. In 2004 as Vice President & General Manager, Jim transformed Foundation Systems, Inc. from a $2 million local staffing firm to a $22 million global IT staffing organization for Fortune 100 companies. Foundation Systems, Inc. was ranked on Forbes Fastest Growing 500 Private Companies list and in 2009 was acquired by American Cyber Systems, Inc. In addition to being a special consultant to Commit to Greatness Consulting, Inc., Jim also consults for VMS Accelerators which offers strategy and leadership services to large multi-national staffing organizations. Concurrent with his career in the Staffing and Leadership Consulting Industries, Jim has managed to build a thriving yoga practice and business. Jim was first introduced to yoga in 1968 at the age of 11. Since 2002 he has been Business Manager and Yoga Teacher at Downtown Yoga, LLC in Pleasanton, CA. Jim is an accomplished yoga practitioner who has travelled to India over 15 times to study with his teacher – a world-recognized yoga master. Jim has a unique ability to combine a deep knowledge of yogic principles and practices, with a very pragmatic and action-oriented business approach that produces outstanding results and builds great teams.
Susan Mayginnes is founder and president of Commit to Greatness Consulting, Inc., a leadership development company offering powerful methods for transforming leaders and organizations toward greater personal mastery, results and happiness. Susan is recognized by her clients for her unique approach that goes beyond the usual leadership or management training to address the deeper thinking, underlying beliefs and blind spots that drive behavior, business relationships and results. Through advanced methodologies and the latest approaches in neuroscience and leadership strategies, she fosters exceptional executive thinking and alignment of senior leadership teams, leading to greater organizational alignment and performance. Her approach is transformational and awakens leaders' abilities to create real change, both personally and organizationally. With a long and distinguished career as Co-Founder and Director of Training for The Summit Organization, graduating over 40,000 people through it's innovative personal and professional development programs, Susan developed and ran a $14 million-dollar company, has worked with senior leaders and their organizations through: executive mastermind programs and executive coaching; delivering customized educational programs and facilitating executive meetings; breakthrough planning sessions and organizational culture design. Her specialties include coaching senior executives, creating intentional company cultures, and developing future leaders. Susan holds a Masters degree in Leadership and Organizational Culture, is a Master-Level Trainer in Neuro-Linguistic Programming and is a Senior Fellow of the Hendricks Institute with certification in Body-Centered Psychotherapy and Hypnotherapy. She has an 8-year yoga practice.
Leaders who are growing a business and developing people.

Leaders who want to have a greater positive influence on their people and greater impact on their organization.

Leaders who want to evolve personally and professionally.

Leaders who want the collaboration, support and mentoring of a group of peers.

Leaders who are introspective and reflective.

Leaders who want to forward an extraordinary vision.

Leaders who want new and more enlightened approaches to creating outcomes.

Leaders who want a thriving business and a thriving life.

Leaders who want more meaning and fulfillment in their work and lives.

Leaders who want higher levels of integrity and congruence in themselves and their business.

Leaders who love to learn.

Leaders with courage.
This program is NOT for you if:
You think you already know everything.

You are not interested in business values, such as integrity.

You are negative, cynical and unwilling to be coached.

You are not interested in having a positive impact on the world.

You really don't care about other people.

You are not interested in supporting/coaching other leaders or being supported or coached.

You are unwilling to participate in the sessions.

You are not interested in being happy.

You are not willing or able to participate in a physical yoga practice.
We'll be bringing this transformation to you by gathering a small, committed group of fellow leaders, and focusing on your Breakthrough Result for an entire year.
We'll begin this April with a 2-day Opening Weekend gathering where each person will define the Breakthrough Project they will be committing to for the year. We'll be learning tools for change from the newest methods in transformational work and Brain Science, and create alignment of mind, body and business through yoga and yogic teachings.
We'll hold another 2-day Retreat in November. This will ensure that your Breakthrough Project will be fulfilled before the end of our time together. We'll provide more training and practice, yet primarily focus on breaking through any Resistance, Limiting Beliefs or Unproductive Patterns remaining.
Monthly, Live, In-Person Meetings
Each month that we don't have a retreat, we'll meet in person for 1 full day. On a Saturday – where you'll bring your challenges and results, and you'll get the support you need to continue to move forward. We will continue to provide transformational tools and processes as well as yogic practice in each session.
We'll track your progress on your Breakthrough Project, and address new thinking necessary to empower you to continue moving forward.
Between meetings, you'll have a small group of participants you will Mastermind with for continued engagement. These small groups may meet in-person or over the phone as they choose.
Monthly Small-Group Call with a Mastermind Leader
In addition to your open small-group meetings, each month Mastermind Leaders will facilitate monthly group calls with the participants, ensuring you have all the tools and skills necessary to win at this game.
Quarterly Individual Coaching Sessions
Each quarter, you will also have the opportunity to schedule an individual coaching session with Jim or Susan.
These 4 individual sessions ensure you get the specific and personal attention you may need to truly create your Breakthrough.
Your Bonus: WorkPlace Big Five Personality Assessment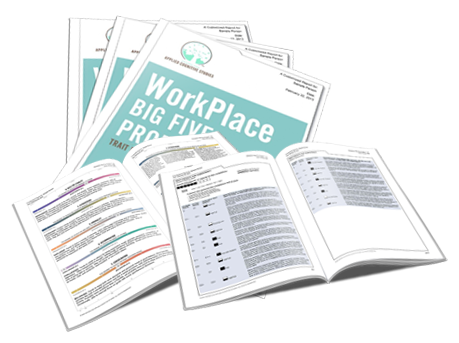 This assessment, based on the most widely respected personality model in the field —the Five-Factor Model – focuses specifically on your strengths in the work environment.
You'll identify your 5 personality supertraits and 23 subtraits that impact your day-to-day encounters – with co-workers, employees, managers, colleagues, and family.
You'll receive a personal review and individual coaching sessionon how best to use these results in your business – and overcome your Leadership Challenge.
We'll be using the aggregated results to maximize
the value and opportunity of the entire Mastermind.
The Workplace Big 5 has been shown to:
Increase Productivity

Improve Workplace Communications

Provide Greater Self-Awareness

Improve Bottom Line Results
Your assessment and individual coaching session are included in The Yoga of Leadership Mastermind.
In The Yoga of Leadership you will experience radical shifts in your ability to generate powerful internal states of being and foster alignment of mind, heart, body and action.
You'll be guided through processes and techniques that will empower you to develop the new brain patterns and pathways that will navigate you through your breakthrough.
You'll be empowered to apply these same skills all over your life, experiencing breakthrough after breakthrough.
You can expect to have not only concrete bottom line results, but also the experience of being a leader who can create what you want in this world and help others do the same.
You'll develop Peak Performance States where you achieve your goals with Ease, Joy, and Satisfaction.
We'll do all this using the latest discoveries in brain science, while leveraging the wisdom of ancient yogic teachings and practices.
This kind of experience, guidance, support and Mastermind is truly unavailable anywhere else.
You will receive the power of 2 coaches and 19 other leaders and peer advisors to model and learn from.
Just a single Executive Coach – if you can find one this empowering and effective – begins at upwards of $3000 per month, and what it would take to gather a community like this is priceless.
You have the opportunity to join The Yoga of Leadership Mastermind for an investment of only $9700 – or save $700 by paying in full before March 15.
That's less than a third of what you would expect to pay for a year of support from just a single executive coach, and it's a fraction of the value you can expect to receive in return.
Can you imagine the value and impact of breaking through your Leadership Challenge to the results you want?
The Yoga of Leadership will provide immediate returns in ways you can't even imagine and for years to come.
Program is limited to the first 20 people who qualify!
Registration Fee: $15,000
Save $3,000 if paid in full upon acceptance


Dates for In-Person Meetings:
Opening Weekend: April 25th, 26th, and 27th (sant Cruz area)
Saturday, May 17th
Saturday, June 7

th
Saturday, July 12th
Saturday, August 16th
Saturday, September 20th
Saturday, October 18th
Second Weekend: November 8th and 9th
Saturday, December 6th
Saturday, January 10th, 2015
Saturday, February 7th, 2015
Saturday, March 7th, 2015
Weekend locations will be in the Santa Cruz area, and details will be provided upon registration.
Monthly meetings will be held in Pleasanton, and will run from 9AM - 5PM.
To discus your eligibility for the program, answer any questions or enroll in The Yoga of Leadership
Mastermind, contact: