Sunrise Yoga (restorative)
This class is taught by: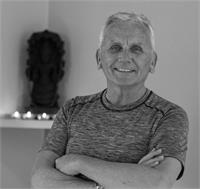 Jim was introduced to yoga in 1967 at the age of 10. He began practicing yoga in earnest in 1993. Jim has traveled to India extensively to expand his knowledge of yoga with his teacher H.S. Arun. Jim teaches yoga with a sense of humor and grounded in the fundamentals of the Yoga Sutra's of Patanjali, the Bhagavad Gita, and the teachings of B.K.S. Iyengar.
Jim was born in Buffalo, New York in 1957, and has lived in California since 1964. Jim's "other" career has been as an executive recruiter. He has managed and owned several staffing companies since 1989. He also has worked as a career counselor and outplacement consultant.
In 2005 Jim had the privilege of traveling to India several times over the next three years. It was during this time that he met his beloved teacher and friend Yoga Praveena H.S. Arun from Bangalore, India.
You will find Jim practicing at the studio at 6:00 a.m. every day except Sundays when he sleeps in and teaches the 8:30 a.m. class.
In addition to the above, Jim manages the business of the yoga studio, including building our online presence and community. If you have comments or suggestions as to how we could make this site better, please let Jim know.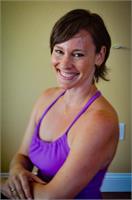 Early in life Shawna began exploring the benefits of exercise, particularly those associated with improved emotional and mental wellbeing. She worked in the fitness industry for seven years, taught exercise classes, and was certified by several nationally recognized exercise organizations. Although acquainted with the basics of yoga, it wasn't until 2008 that she discovered a teacher who inspired her into a deeper appreciation of the practice and revealed that what she had always sought at the gym was actually waiting for her in the yoga studio. Yoga has turned out to be the mind, body, spirit connection that she'd been seeking and so, in 2010, she graduated from Brentwood Yoga Center's Advanced Yoga Studies Program and became certified with the Yoga Alliance. She also took her pursuit of yoga half way around the world when she accompanied Jim, Kate, and her teacher Sandy on their spectacular retreat to India. As a student first and a teacher second, she hopes to use her knowledge and enthusiasm to bring the life changing benefits of yoga to others. She currently lives in Discovery Bay with her husband, Mike, and two dogs, Jazmine and Bodhi.
Practice along with one of our senior teachers. This class is for the student who wants to challenge himself or herself by experiencing the quiet-stillness that comes as a result of holding more challenging poses for longer periods of time. Inversions are an integral part of this practice. Get up and get the day going. This 6:00 a.m. class is a perfect way to stretch and wake up.
Upcoming classes: