Donation Class - pay what you can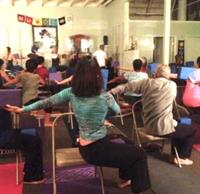 Looking for an affordable, beginner-friendly yoga class? Starting Saturday, April 2, 2016 Downtown Yoga is offering new "Pay What You Can" classes.
Held each week, they are led by a variety of talented teachers. ANYONE can do Yoga. ANYONE can benefit from Yoga. With our weekly "Pay What You Can" series, ANYONE can afford Yoga. These classes are great and the best part is your donations benefit a local charity. Come join us.
Join us! Wear comfortable clothes and arrive a few minutes early to get settled in. No need to sign-in and your donation is anonymous. Use the donation box near the studio door as you enter.
Note: The standard drop-in class price is $15. You pay what you can; $1 - $15 recommended.
Upcoming classes: