All Levels - 6am Yoga
This class is taught by: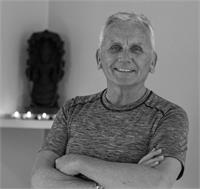 Jim was introduced to yoga in 1967 at the age of 10. He began practicing yoga in earnest in 1993. Jim has traveled to India extensively to expand his knowledge of yoga with his teacher H.S. Arun. Jim teaches yoga with a sense of humor and grounded in the fundamentals of the Yoga Sutra's of Patanjali, the Bhagavad Gita, and the teachings of B.K.S. Iyengar.
Jim was born in Buffalo, New York in 1957, and has lived in California since 1964. Jim's "other" career has been as an executive recruiter. He has managed and owned several staffing companies since 1989. He also has worked as a career counselor and outplacement consultant.
In 2005 Jim had the privilege of traveling to India several times over the next three years. It was during this time that he met his beloved teacher and friend Yoga Praveena H.S. Arun from Bangalore, India.
You will find Jim practicing at the studio at 6:00 a.m. every day except Sundays when he sleeps in and teaches the 8:30 a.m. class.
In addition to the above, Jim manages the business of the yoga studio, including building our online presence and community. If you have comments or suggestions as to how we could make this site better, please let Jim know.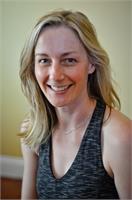 Natascha is a Registered Yoga Alliance Teacher and graduate of Downtown Yoga's 200-hour Advanced Yoga Studies Program, with a focus on Iyengar-style yoga. Iyengar yoga is a form of hatha yoga that emphasizes alignment by using props, such as blocks, blankets, bolsters, straps, etc., to perform poses (asanas). This practice builds flexibility, and core strength, while calming the mind and helping practitioners to develop a peaceful inner sense. Natascha is currently training to become a Marriage & Family Counselor, after 20 years of working in high-tech marketing. Yoga and meditation have had a profound impact on Natascha's life and she enjoys sharing this passion with others to help each person discover a happier and healthier self.
Upcoming classes: