Kate Coughlin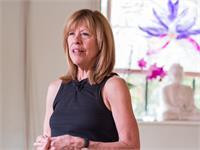 Kate is a passionate and dedicated explorer of movement, meditation and yoga which spans 40 years.
She is an inspired practitioner who loves the precision of alignment, and teaches with a creative joyful approach.
Kate has been an inspiration to thousands of students during her 30 years of teaching. She has developed two Advanced Studies Programs with over 100 graduates who now teach throughout the U.S.
She has studied intensively with such wonderful teachers as: Donald Moyer, Erich Schiffmann, and Arunji of Bangalore, as well as teachers all over the Bay Area. Kate is also a world traveler including trips to India to study yoga.
Kate created and taught the yoga program at Stanford University from 1989-2001. She is the Founder and Director of Downtown Yoga in Pleasanton California. She is an international teacher offering retreats for inspiration and restoration.
Her students describe her as warm hearted, inspiring and caring. She is a radiant, beautiful soul who honors the beauty and presence of each and every moment.
Kate Coughlin instructs the following:
Any and all new students to Yoga are welcome to attend. Classes focus on basic poses and conscious breathing techniques. Specific instruction is given on alignment and safety.The syllabus for the Beginner's Yoga classes refines and perfects all of the basic 30 poses that are covered in the Introduction to Yoga series. In addition, we begin to explore 20 new poses and combinations of poses. Learn more about our Pose Syllabus here. How long should I continue to go to just the Beginner's Yoga classes?Some people stay in the beginner's yoga classes for years. Moving onto a Beginner/Intermediate class isn't necessary or mandatory. The 50 poses and sequences covered in the Beginning Yoga program will set the foundation for a balanced and integrated life-long yoga practice for any student at any age. These 50 poses stretch, strengthen and tone all the muscles and joints in the body. They create balance and fine integration throughout the entire human being.What if I feel like I want to learn more or do more – is it safe to go into a Beginner/Intermediate class?If you have been practicing in our Beginner's Yoga classes 2-3 times a week, and you feel comfortable in 85% of the poses listed above (45 of 50 poses), then you are in a safe place to continue to the Beginner/Intermediate classes.