Shawna Scizak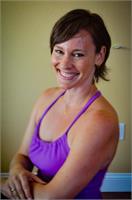 Early in life Shawna began exploring the benefits of exercise, particularly those associated with improved emotional and mental wellbeing. She worked in the fitness industry for seven years, taught exercise classes, and was certified by several nationally recognized exercise organizations. Although acquainted with the basics of yoga, it wasn't until 2008 that she discovered a teacher who inspired her into a deeper appreciation of the practice and revealed that what she had always sought at the gym was actually waiting for her in the yoga studio. Yoga has turned out to be the mind, body, spirit connection that she'd been seeking and so, in 2010, she graduated from Brentwood Yoga Center's Advanced Yoga Studies Program and became certified with the Yoga Alliance. She also took her pursuit of yoga half way around the world when she accompanied Jim, Kate, and her teacher Sandy on their spectacular retreat to India. As a student first and a teacher second, she hopes to use her knowledge and enthusiasm to bring the life changing benefits of yoga to others. She currently lives in Discovery Bay with her husband, Mike, and two dogs, Jazmine and Bodhi.
Shawna Scizak instructs the following:
A healing practice of supportive and restorative poses, which relieve tension and stress throughout the body. Beginners welcome!




Come in for a great "lunchtime" yoga practice. The practice will run 1 hour and 15 minutes, from noon to 1:15 p.m. Just enough time to get your mind and body "reset" for the rest of the day!