Nancy Larson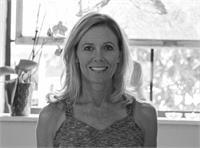 Nancy first developed a passion for yoga after becoming a Certified Lamaze Childbirth Educator in 1996. She has always had an interest in working in preventative health and when she began teaching childbirth classes, she expanded her prior fitness career to include pregnant and postpartum women. She holds many different prenatal yoga certifications, some of which include Whole Birth® Prenatal Yoga, Doulas of North America Doula Training /Teaching Yoga to Pregnant Women at the The Iyengar Yoga Institute of San Francisco, and YogaFit®. She has been teaching prenatal yoga since 2000.
She believes in the importance of pregnant women exploring their body and connecting with their inner wisdom and their unborn child through yoga and integrating this into childbirth and parenting. She designs her classes to help pregnant women alleviate certain discomforts associated with pregnancy and prepare the body and mind for labor through breathing, movement and deep relaxation. Nancy is a certified labor support specialist through both Lamaze and DONA and maintains a HypnoBirthing® Institute Certification.
Nancy Larson instructs the following:
Any and all new students to Yoga are welcome to attend. Classes focus on basic poses and conscious breathing techniques. Specific instruction is given on alignment and safety.The syllabus for the Beginner's Yoga classes refines and perfects all of the basic 30 poses that are covered in the Introduction to Yoga series. In addition, we begin to explore 20 new poses and combinations of poses. Learn more about our Pose Syllabus here. How long should I continue to go to just the Beginner's Yoga classes?Some people stay in the beginner's yoga classes for years. Moving onto a Beginner/Intermediate class isn't necessary or mandatory. The 50 poses and sequences covered in the Beginning Yoga program will set the foundation for a balanced and integrated life-long yoga practice for any student at any age. These 50 poses stretch, strengthen and tone all the muscles and joints in the body. They create balance and fine integration throughout the entire human being.What if I feel like I want to learn more or do more – is it safe to go into a Beginner/Intermediate class?If you have been practicing in our Beginner's Yoga classes 2-3 times a week, and you feel comfortable in 85% of the poses listed above (45 of 50 poses), then you are in a safe place to continue to the Beginner/Intermediate classes.




Pre-natal appropriate for all expecting mothers from newly pregnant to 9 months.