Laura Volsansky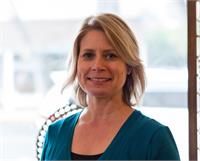 In 2011, Laura started on her path of yoga at the prompting of a physical therapist while working through a sports injury. She was intrigued that many exercises prescribed to heal sport injuries are actual yoga poses. She began her study at Downtown Yoga in Pleasanton under the guidance of director, Kate Coughlin and Jim Coughlin. In 2015, Laura completed the 200 hour Advanced Yoga Studies Program in accordance with the Yoga Alliance.
Laura had the unique opportunity to study yoga in Bangalore, India in 2012 and 2014 with H.S. Arun of Prashant Yogashraya. On her first trip to India, she was thrilled to see B.K.S. Iyengar in person and his teachings remain her source of inspiration. Laura places a focus on relieving daily stresses, finding ways to calm the mind and renew the spirit. Her Iyengar-based yoga instruction includes props to make the practice of yoga all-inclusive and enjoyed by any person, body type or fitness level.
When Laura is not in the office or in the yoga studio, she enjoys the zen of riding her motorcycle and volunteering with her dog in a children's reading program.
Laura Volsansky instructs the following:
Practice along with one of our senior teachers. This class is for the student who wants to challenge himself or herself by experiencing the quiet-stillness that comes as a result of holding more challenging poses for longer periods of time. Inversions are an integral part of this practice. Get up and get the day going. This 6:00 a.m. class is a perfect way to stretch and wake up.




Looking for an affordable, beginner-friendly yoga class? Starting Saturday, April 2, 2016 Downtown Yoga is offering new "Pay What You Can" classes.

Held each week, they are led by a variety of talented teachers. ANYONE can do Yoga. ANYONE can benefit from Yoga. With our weekly "Pay What You Can" series, ANYONE can afford Yoga. These classes are great and the best part is your donations benefit a local charity. Come join us.

Join us! Wear comfortable clothes and arrive a few minutes early to get settled in. No need to sign-in and your donation is anonymous. Use the donation box near the studio door as you enter.

Note: The standard drop-in class price is $15. You pay what you can; $1 - $15 recommended.