Mary Monahan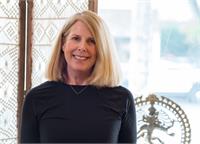 Mary wants to share the healing, transformative power of yoga with others. She was introduced to yoga when her physician recommended it as a way to help recover from cancer. Long since cancer free, she continued to deepen her yoga practice through movement and breath, graduating from the 200-hour Advanced Studies program with Kate and Jim Coughlin in June 2011. Mary is passionate about Iyengar-inspired yoga because its emphasis on good form and alignment is essential to avoiding injury and increasing strength. She strives to create an open, positive space where students are free to explore the mind, body and spirit, in the most compassionate way possible.
Mary Monahan instructs the following:
All Levels class at noon. 75-minute class.




Gentle yoga combines a sequence of poses in a safe and supportive pracitce that is restorative in nature and excellent for people with specific challenges or recovering from injury or illnesses.




Looking for an affordable, beginner-friendly yoga class? Starting Saturday, April 2, 2016 Downtown Yoga is offering new "Pay What You Can" classes.

Held each week, they are led by a variety of talented teachers. ANYONE can do Yoga. ANYONE can benefit from Yoga. With our weekly "Pay What You Can" series, ANYONE can afford Yoga. These classes are great and the best part is your donations benefit a local charity. Come join us.

Join us! Wear comfortable clothes and arrive a few minutes early to get settled in. No need to sign-in and your donation is anonymous. Use the donation box near the studio door as you enter.

Note: The standard drop-in class price is $15. You pay what you can; $1 - $15 recommended.