Restorative Yoga
This class is taught by:
Vidya Rangachari turned to Iyengar Yoga in 2012 in order to get relief from back pain brought on by scoliosis. When Vidya noticed that yoga offered her the potential of healing herself holistically without taking recourse to pain medication, she began the 200-hr Advanced Studies program offered by Downtown Yoga in Pleasanton, CA. She became a proud graduate of the program in 2013. In keeping with her dream to help others with back-related challenges coupled with a sincere desire to pay it forward, she started teaching yoga in November 2016. Along with the 200-hour teacher training program, Vidya has also successfully completed a Back Care certificate program and a Restorative Yoga program from Downtown Yoga. Vidya is a trained English as a Second Language teacher with Master's degrees in Applied Linguistics and American Literature. In her spare time, she loves to read, hang out with her husband and kids, and go on long doggie walks with her 7 year old golden retriever.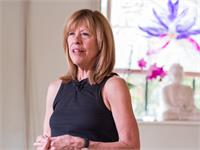 Kate is a passionate and dedicated explorer of movement, meditation and yoga which spans 40 years.
She is an inspired practitioner who loves the precision of alignment, and teaches with a creative joyful approach.
Kate has been an inspiration to thousands of students during her 30 years of teaching. She has developed two Advanced Studies Programs with over 100 graduates who now teach throughout the U.S.
She has studied intensively with such wonderful teachers as: Donald Moyer, Erich Schiffmann, and Arunji of Bangalore, as well as teachers all over the Bay Area. Kate is also a world traveler including trips to India to study yoga.
Kate created and taught the yoga program at Stanford University from 1989-2001. She is the Founder and Director of Downtown Yoga in Pleasanton California. She is an international teacher offering retreats for inspiration and restoration.
Her students describe her as warm hearted, inspiring and caring. She is a radiant, beautiful soul who honors the beauty and presence of each and every moment.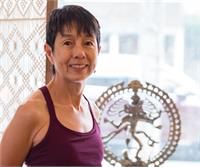 Patricia took her first yoga class more than 20 years ago. She realized she needed something to offset the repetitive stress pain she was experiencing as a dental hygienist.
Being a perpetual student was her plan. Then in 2010 she received her 200-hour teacher training from Downtown Yoga Advanced Studies Program.
This led to teacher certifications for paddle board yoga from BOGA Yoga - 2013, yoga therapy ball from Yoga Tune Up - 2015, restorative yoga from Namaste Yoga Berkeley - 2017.
Teaching was not her original goal, however she has discovered the joy of teaching, especially
restorative yoga.
A healing practice of supportive and restorative poses, which relieve tension and stress throughout the body. Beginners welcome!
Upcoming classes: